Progress Update on the Wisconsin Vietnam War Memorial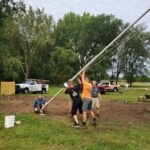 The Wisconsin Vietnam War Memorial in La Crosse is beginning to take shape and progress is well under way. We will be dedicating the flags for the Vietnam war memorial on October 20th, 2021 at 12:00pm CST. Additionally, we will be hosting a dedication for the wall of the memorial. As with many things, the COVID pandemic has slowed this process but we appreciate the overwhelming support we've received for this wonderful memorial to our Vietnam War Veterans in the area.
We can finally see the site matching up to the vision we set forth with. Thank you to everyone who has assisted with donations, fundraising, sponsoring and generally supporting the Wisconsin Vietnam War Memorial.
If you too would like to support our efforts please take a look at the Donations and Sponsors sections of our site, as well as the Contact & Committee sections with any questions or concerns. Also, please follow us on our Facebook page to get all the latest news regarding progress of the Wisconsin Vietnam War Memorial.